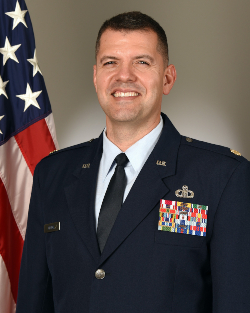 Major Fernando Ortega is the Director of Operations and Professor of Aerospace Studies for Air Force Reserve Officer Training Corps (AFROTC) Detachment 028, at Embry-Riddle Aeronautical University, Prescott, Arizona.
Major Ortega graduated from Officer Training School in 2009 and has 13 years prior-enlisted experience. As a Staff Weather Officer, Major Ortega's first assignment was to Fort Sam Houston, Texas, where he provided direct support to U.S. Army North and U.S. Army South advising two Army Commanding Generals on operational weather impacts across the Northern and Southern Commands.
Major Ortega moved to Davis-Monthan AFB, Arizona, where he led a a 71-member flight providing 24/7 operational weather support to aircrews, ground forces and senior leaders at 79 DoD installations. He has also served as the Officer-in-Charge of the 12th Air Force Watch Center providing command and control throughout the full spectrum of operations which included contingencies, crisis planning, counterdrug, Foreign Humanitarian Aid/Disaster Relief operations and POTUS support. Major Ortega is also an Honor Graduate of the Inter-American Air Forces Academy where he led 9 South American military officers in a Spanish-speaking academic environment.
Prior to his current position, Major Ortega served as a Detachment Commander at Fort Shafter, Hawaii, and was charged with providing meteorological support to U.S. Army Pacific to include directing hurricane readiness postures across the Hawaiian Islands, American Samoa, Johnston Atoll and Kwajalein. Maj Ortega has deployed to Saudi Arabia and the United Arab Emirates in support of Operation Southern Watch and to Afghanistan in support of Operation Enduring Freedom.
Warning! This rendering doesn't seem to have a data source.
Air Force ROTC
Administration
3700 Willow Creek Road
Prescott, AZ 86301