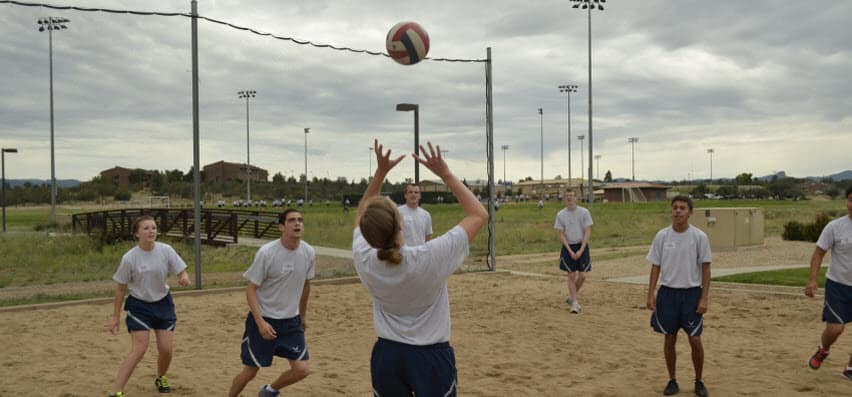 Honor Corps
The Honor Corps consists of four drill teams: Sabre Drill Team, Rifle Drill Team, Unarmed Drill Team, and Color Guard. These teams perform several times in front of the Corps each semester and may compete at various drill meets once a year, such as the National Invitational Drill Meet at the Air Force Academy and the Southern California Invitational Drill Meet.
Learn more about Embry-Riddle's Air Force ROTC Honor Corps
Work With Veterans
Honoring our veterans in the local community is very important to the cadets of Det 028. The cadet wing participates in events year-round that honor our veterans, such as the annual POW/MIA Retreat and the Veterans Day Parade. They also regularly visit veterans at Prescott's Veterans Affairs Hospital to hear about the abundance of experiences veterans have to share.
Dining In/Out
Dining Out is a formal Air Force banquet held once a year. At this event, a guest speaker provides insight based on his/her own experiences to cadets. In the past, speeches have been made by the cadre, Air Force Association members, current officers in the military, and other highly respected members of the military community. Combat Dining In is a similar activity, held once a year, in which cadets participate in a field atmosphere version of Dining In.
Privacy and Security Notice | The Presence of Commercial/External Links | FOIA Notice | Cookie Disclaimer
Air Force ROTC
Administration
3700 Willow Creek Road
Prescott, AZ 86301
Major Christopher Pope
Air Force ROTC
Recruitment