Safety and accident prevention is not to be taken for granted. It requires professionals trained in recognition, evaluation and control of multi-layered safety hazards. Our Safety Science graduate students obtain the technical and managerial knowledge and skills necessary to practice occupational health and safety in a variety of industries, including manufacturing, mining, construction, energy, oil and gas, insurance, consulting, healthcare and many more. In addition, our expertise in aviation safety is internationally recognized, and our faculty are frequently consulted by national media.
Our Master of Science degree program offers a full-time, comprehensive study in safety. The program is accredited by the Aviation Accreditation Board International (AABI) and approved by the Board of Certified Safety Professionals as a Qualified Academic Program — meaning that, upon completion, students are designated a Graduate Safety Practitioner and have made progress toward the national Certified Safety Practitioner certification.
The Master of Science degree program is also recognized by the Associate Safety and Health Manager (ASHM) program and approved by the Institute of Hazardous Materials Management (IHMM). Graduating students from the program can apply for the ASHM credential without an exam requirement or application fee. The ASHM designation is an important step to gain Certified Safety and Health Manager (CSHM) certification, often leading to executive career opportunities.
Department of Safety Science including the faculty offices, classrooms, and labs are housed conveniently in the Robertson Aviation Safety Center at the Prescott campus, promoting daily interaction with other students and faculty.
Master of Science in Safety Science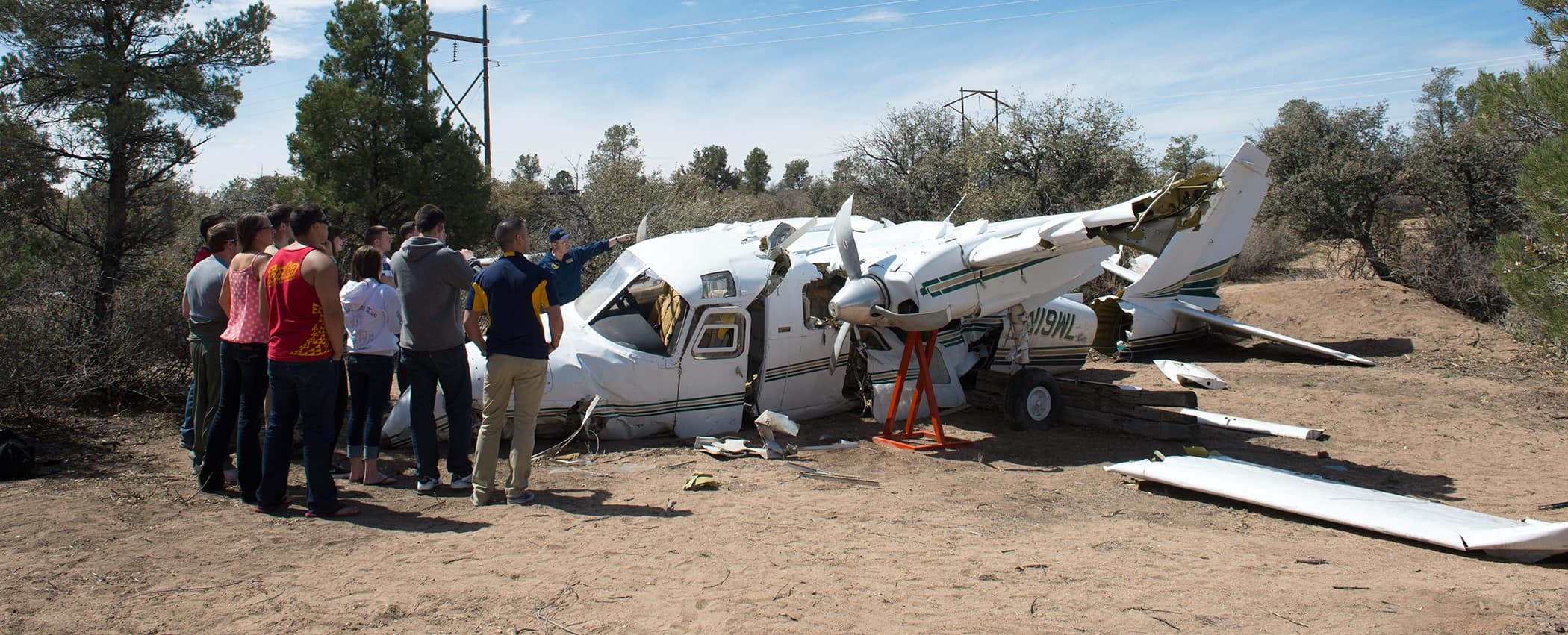 Human error contributes to approximately 70% of aviation accidents and there is a cost of over $1 billion to U.S. residents as a result of airplane accidents. The U.S. Department of Labor estimates employers pay $1 billion per week in workers' compensation due to workplace hazards. These staggering numbers motivate employers to hire valuable, experienced safety professionals to cultivate new and effective safety models for their businesses. At Embry-Riddle, safety is no accident. We guide you to become an industry safety specialist, utilizing practical training, research, evidence and analysis to create efficient safety systems for your future career.
Learn more about the Master of Science in Safety Science Degree
Labs
Industrial Hygiene Laboratory
Students will have the ability to gain first-hand experience using state-of-the-art equipment to evaluate a variety of hazardous environmental agents and factors.
Visit the Industrial Hygiene Laboratory
Ergonomics Laboratory
The various types of tests and equipment found in the Ergonomics Laboratory are developed to help students understand and evaluate the functional parameters of the human body in the workplace. The lab houses the Vicon Motion Capture and Measurement System.
Visit the Ergonomics Laboratory
Robertson Aircraft Accident Investigation Laboratory
The Robertson Aircraft Accident Investigation Laboratory is the most complete facility of its kind in the country — and the only scenario-based accident investigation facility available for use by students at any university.
Visit the Robertson Aircraft Accident Investigation Laboratory
Prescott Campus Admissions
Apply for the ISASI-Robertson Fellowship in Aviation Safety & Crashworthiness
The ISASI-Robertson Fellowship supports research in crash-worthiness, survivability and accident investigation by providing a graduate student an opportunity to conduct novel research on aviation safety design and technology while working with the Robertson Safety Institute within the Department of Safety Sciences.