The Department of Aeronautical Science offers an Aeronautical Science degree (Fixed-Wing and Rotary), a flagship program that has long prepared graduates for rewarding careers in the commercial aviation industry or government. Much of our University's reputation has been founded on the professionalism of graduates who went on to superb careers as commercial and military pilots.
The Aeronautical Science degree program blends flight training with academic education to lay the foundation for leadership in airlines, corporate and commercial aviation, or the military. This approach to aviation education gives the students an added value over traditional flight training programs by focusing on the skills and knowledge demanded by industry and government today.
The curriculum ensures that graduates have the skills in mathematics, physics, communications, and aeronautics they need, including FAA certification as a multi-engine, instrument-rated airplane or helicopter pilot. The program also includes Aeronautical Science and flight courses that prepare students for careers as professional pilots.
The department has all the high-technology equipment needed to help students develop critical thinking and problem-solving skills through computer simulations and to learn what they need to know about aircraft performance, navigation, and aircraft systems operation.
The department also offers Aircraft Dispatcher Certification, which can be included as an elective course in the student's senior year. Because of the composition of our degree program, graduates have a much greater knowledge of aviation than that required by the FAA, airlines, or the military.
Learn More About our Department Degrees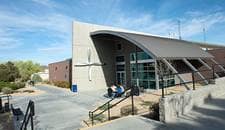 Labs & Facilities
Learn about the state-of-the-art labs and facilities available to Embry-Riddle students in the Aeronautical Science Department.
3700 Willow Creek Road
Prescott, AZ 86301