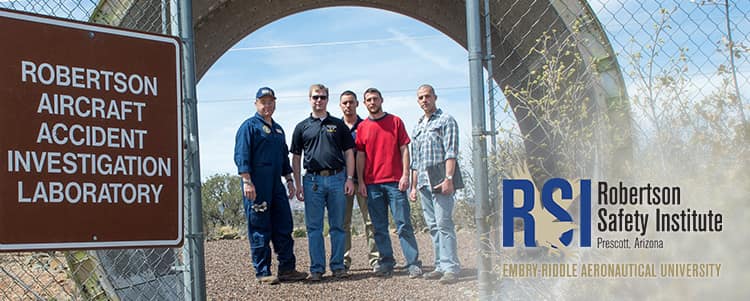 The Robertson Safety Institute (RSI) is a professional development, outreach, and consulting organization with a strategic focus on aviation and industry safety.
RSI offers opportunities for:
Advanced professional training via workshops and seminars
Consulting on safety projects with corporate partners
Applied research activities to benefit organizations
And much more
Collaborating with RSI gives industry leaders the ability to stay on the cutting edge of research and practice in aviation and industry safety. Through joint research and project partnerships, companies can gain insight into their own safety programs while working with leading faculty experts and providing learning opportunities for students. Training programs blend the best in science and educational techniques to help professionals learn the newest safety techniques and advance professionally.
Robertson Aircraft Crash Investigation Laboratory
The Robertson Aircraft Crash Investigation Laboratory, located at Embry-Riddle's Prescott Campus, offers students the opportunity to conduct simulated hands-on field investigations of selected aircraft accident scenarios.
The ISASI-Robertson Fellowship in Aviation Safety & Crashworthiness
The ISASI-Robertson Fellowship supports research in crash-worthiness, survivability, and accident investigation by providing a graduate student an opportunity to conduct novel research on aviation safety design and technology while working with the Robertson Safety Institute within the Department of Safety Sciences.
Robertson Safety Institute
Cathy Watt - RSI Event Coordinator