Jason Langston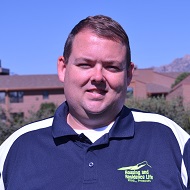 Jason Langston is the Director of the Department of Housing and Residence Life (HRL) at Embry-Riddle Aeronautical University-Prescott Campus. He is a native of Peoria, AZ. After completing his Bachelor of Science in Microbiology (Pre-Health Emphasis) from Northern Arizona University in Flagstaff, Langston decided it was time for a change in career paths. He moved to Blacksburg, Virginia where he completed his Master of Arts in Educational Leadership and Policy Studies at Virginia Tech.
Langston is an expert at developing departmental vision, and shares his leadership skill through national student development organizations. He is a member of American College Personnel Association (ACPA); Association of College & University Housing Officers - International (ACUHO-I); NASPA – Student Affairs Administrators in Higher Education; and Association of Intermountain Housing Officers (AIMHO).
He currently resides in Prescott Valley with his wife Shar, his daughters Olivia and Maryanne, Samantha, and his son, James.
Jason can be contacted at Jason.Langston@erau.edu
Fun fact: Langston is an Eagle Scout.
---
Justin Munz
Justin Munz is the Assistant Director of Housing Opperations in the Department of Housing and Residence Life. A native of Emporium, PA, Munz holds a Bachelor of Science in Chemistry from Thiel College, and a Master of Science in Education degree in Counseling with a specialization in Student Affairs and Leadership from Youngstown State University. Before coming to ERAU, Munz worked in Housing and Residence Life at Youngstown State in Youngstown, OH and at Wheeling Jesuit University in Wheeling, WV. He is an active member of NASPA- Student Affairs Administrators in Higher Education and the Association of College & University Housing Officers – International (ACUHO-I).
Justin can be contacted at Justin.Munz@erau.edu
Fun Fact: Munz is a proud brother of the Delta Sigma Phi Fraternity, enjoys trying new foods and spending time outdoors.
---
Deborah L. Williams
Deborah L. Williams is the Housing Coordinator for the Department of Housing and Residence Life. Originally from Denver, Colorado, Williams lived in California for a number of years before completing the Paralegal program at the University of Nevada Las Vegas. Prior to coming to Embry-Riddle, she was a paralegal for eleven years. Williams plays a vital role in housing, as she is responsible for managing all of the room assignments for first year students, transfers and returning students after the room selection process concludes.
Williams has two teenage daughters, Montana and Morgan, and an adult son, Scott.
She can be contacted at willid99@erau.edu
Fun fact: Williams goes by "Debbie" in the office, and enjoys camping and being outdoors.
---
Connie Dentz
Connie Dentz is the Administrative Assistant in the Department of Housing and Residence Life. Originally from St. Louis, MO, she grew up and advanced her career in California. She holds a Bachelor's Degree in Business Leadership from the University of Phoenix and a Lean Six Sigma Green Belt specific to process improvement and procurement. She comes to ERAU after working in the aerospace, computer and manufacturing environments for 20+ years. She moved to Arizona to be with family, and can be found hiking or zipping around the local trails in their side-by-side, Razor. She is one part seasoned leader, one part dedicated employee and two parts proud grandma of six. She is enjoying the opportunity to continue her career in a University setting while using her skills to support the student housing community.
Connie can be reached at Dentzc@erau.edu
Fun Fact: Connie was a professional baseball player Host Mommy for 8 years. Housing minor league players for the Anaheim Angels, many now play in the big leagues.
---
Madison Weber
Madison Weber is an Area Coordinator in the Department of Housing and Residence Life. Born and raised in central California, she completed her Bachelor of Arts in Anthropology and Sociology in the northern region of the state. From here, she moved to Arizona and completed her Master of Education degree in Counseling- Student Affairs from Northern Arizona University (NAU). Madison served as a Graduate Assistant Residence Hall Director at NAU as well as working for the Upward Bound program and Center for International Education before coming to the Prescott campus for Embry-Riddle Aeronautical University.
She can be reached at weberm11@erau.edu
Fun Fact: Madison has worked/lived in a national park for four summers.
---
Spenser Williamson
Spenser is an Area Coordinator in the Department of Housing and Residence Life. Spenser grew up in McEwensville, a small town in Pennsylvania. After graduating from High School, he moved across the country to Flagstaff, Arizona where he attended Northern Arizona University and received a Bachelor of Science in Creative Media and Film with an emphasis in Independent Filmmaking. While attending NAU, he became heavily involved in HRL working as a Resident Assistant and Desk Manager. After graduating, Spenser moved up to Alaska where he lived off the grid and worked as a concessionaire in the Kenai Peninsula.
He can be reached at wills137@erau.edu
Fun Fact: Spenser spent eight months animating a stop motion film about a rabbit-astronaut named Wesley.
---
Brittany Norton
Originally from Los Angeles, CA, Brittany Norton relocated to Phoenix, AZ in 2016 to pursue a Bachelor of Arts in Government-Legal Studies at Grand Canyon University. Throughout her university career, she has shown leadership through various roles in Residence Life. She has cultivated positive community environments as a Resident Assistant. She was a committee chair for Marketing and Events for Residence Life.
Fun Fact: Brittany has seen over 100 musical artists in concert.