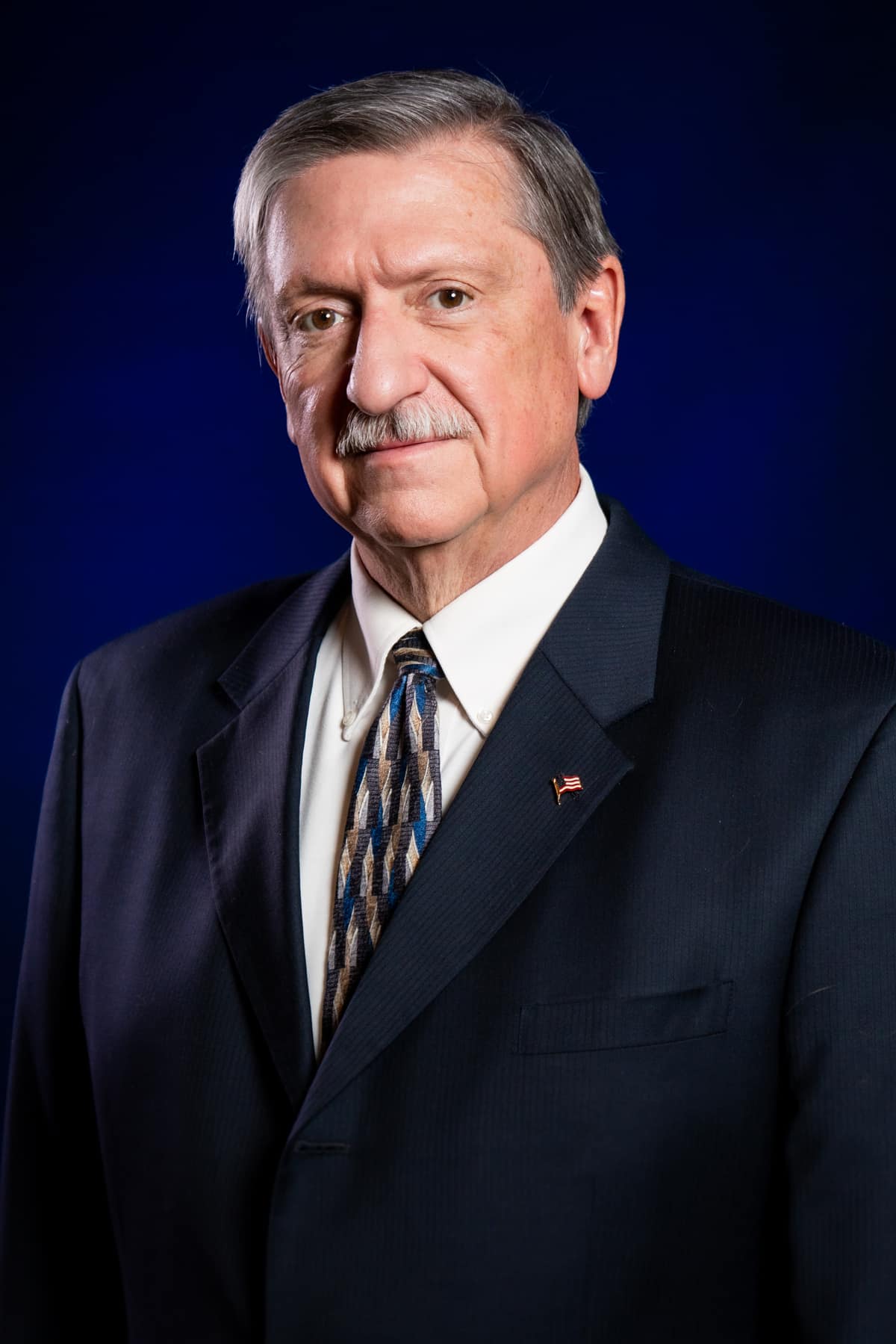 The College of Business, Security and Intelligence (CBSI) is pleased to announce the appointment of Professor Reginald Parker to Chair of the Global Business and Supply Chain Management Program. The program is one of four available to Prescott Campus students in the School of Business.
Parker, who joined Embry-Riddle after a corporate career in supply chain management and anti-counterfeiting, holds a Master of Science in Instructional Design, Development and Evaluation from Syracuse University. He also holds a Certificate of Advanced Study in the same field and is a Certified Protection Professional (CPP) and a Project Management Professional (PMP).
Parker's promotion comes at a time when supply chain issues are frequently in the news. According to The Wall Street Journal, "There were nearly 2.2 million mentions of 'supply chain' on Twitter in the fourth quarter of 2021, some five times more than in any quarter in 2019..." Well-publicized mishaps like that of the Ever Given container ship have provided supply chain students with plenty of real-life scenarios to learn from, and Parker capitalizes on these moments in the courses he teaches, including SIS 428: Supply Chain Security and SIS 625: Global Transit & Supply Chain Security.
An accomplished educator, Parker is also notable for the 98% first-time pass rate his students achieve on the Certified Associate in Project Management (CAPM) exam. Students who pass the CAPM leave Embry-Riddle with an entry-level certification in project management, as well as an advantage in the job market.
The CAPM can be a challenging exam – few universities even teach project management at the undergraduate level – but Parker attributes the 98% pass rate to the relationships he creates in class: not just teacher-to-student, but also manager-to-employee. Parker sets clear expectations with his students and integrates examples from his own work history, clarifying project management processes and knowledge areas with said examples.
Former student Tori Volland ('19, '21) summarizes his impact well: "Project management has not only assisted me in my career, it has also improved my capabilities for personal projects, life activities, improvement endeavors and coursework. Through opportunities presented to me by Professor Parker, I was able to take project management and supply chain management courses. These courses drove me to complete my M.S. in Logistics and Supply Chain Management, broadening my knowledge from my undergraduate studies in Global Security and Intelligence Studies. Now I am working with a wonderful team at Freeport McMoRan, working to constantly improve their global supply chain in a rapidly changing world. The most useful facets of education are those that can be applied to a broad spectrum of topics, and project management and supply chain courses certainly fall under this category."
As Chair, Parker hopes to expand opportunities for students, particularly co-op and internship opportunities. Recently, he was gracious enough to sit down for the first CBSI faculty spotlight and answer a few questions.
What initially drew you to Embry-Riddle?
While attending professional association meetings, I met Dr. Tom Foley (Chair of Global Security and Intelligence Studies) and we shared our work experience and shared interests. He invited me to be a guest speaker in several of his classes where I spoke about my role at Motorola managing the global reverse supply chain, IP asset management and semiconductor anti-counterfeit programs. These topics were of great interest to students, and I was impressed with their maturity, engagement and the quality and depth of questions. My wife, Diane, accompanied me to several lectures and sat in on the classes. She too came away with the "wow" factor of Embry-Riddle students.
I taught in the corporate education programs at General Electric and Motorola and when the opportunity arose to join Embry-Riddle, I embraced the opportunity.
What are your favorite subjects to teach and research?
One common theme in business, and especially in supply chain and security classes, is risk. The concept of risk is uncertainty, and it can be a threat to mitigate or an opportunity to exploit for gain. I teach a class in risk, thoroughly enjoy it, and research how concepts of risk understanding and risk management can apply to supply chains and projects.
I also greatly enjoy the complexity of supply chain operations and teaching and researching about it. I belong to several professional organizations, including the Transported Asset Protection Association (TAPA) and the Pharmaceutical Cargo Security Coalition, where I receive "real time" information about threats and how the industry and law enforcement is responding. We examine these cases in class and discuss the multitude of risk factors not considered that contributed to the loss. The fun aspect is asking students to "think like criminals" to identify potential supply chain vulnerabilities and then offer mitigation options.
My other love is project management. It is about using the right tools and resources to complete the mission efficiently, on time and at the planned cost. In my very first job, I had a mentor who guided me in using specific tools for root cause problem identification, solving, and the importance of completion on or ahead of time. For the rest of my corporate career, I utilized those skills, expanded my knowledge and became a PMI Certified Project Management Professional (PMP). My reputation for getting projects completed grew across the corporation and I was "loaned out" to either run programs or intervene as a project recovery specialist. I am a member of the PMI Academic Network and contribute to research on developing technologies and methodologies in the field. I am also a contributing author to the PMI international standard, Project Management Body of Knowledge (PMBOK - 7th Edition).
I try to be like that mentor and impart my knowledge and experience to students. It is very rewarding.
What are some learnings that current supply chain students can take away from the pandemic?
The pandemic has shown the fragility of the global supply chain. Since the early 1980s, corporations have utilized advanced design capability and LEAN manufacturing to create superior products at less cost. The number of suppliers has reduced to one (single thread) or two trusted partnerships using offshoring to take advantage of lower labor costs, taxes or environmental factors, resulting in spreading the footprint of the now global supply chain.
Logistics transport efficiencies and digital information flows coupled with World Customs Organization trade agreements on standardization expedited import clearance of goods through customs. This enabled JIT (or just-in-time) delivery of materials and goods, and companies no longer carry large supplies of buffer stock and the accompanying added expense.
The U.S. consumer has been the beneficiary of this JIT, low-cost availability of goods. The system is fragile, however, and small disruptions can have major impacts not only on consumers, but also on manufacturers.
Students are about to learn a new term in 2022 and that is "cycle time." Some disruptions cannot be quickly fixed. Building a new semiconductor fabrication facility can take years, for example, and an individual "chip" may have a cycle time of 20+ weeks. Students should understand the concept of supply chain "fragility" and steps to improve the resiliency of any supply chain.
What's one piece of advice you'd give to today's college students?
I must give two:
Be open-minded and curious. Your career options are endless.
The "value-add:" in the first week of every class, I have the "value-add" discussion. Employers seek individuals who can contribute substantially, consistently and reliably to help meet the organization's goals. If a student is in a new job, they should find a formal mentor and understand the metrics of performance. As a reflective practitioner, they should ask every day what "value" they added.
What are your interests outside of Embry-Riddle?
I am a history buff and love reading and researching. I am investigating the history of one of my ancestors in the U.S. Civil War and writing a text on his regimental history.
My other love is traveling and seeing local historical sites. My wife shares this passion and we enjoy traveling.