Find Your Place in Space at Embry-Riddle
In the coming years, all aspects of space study will undergo astronomical changes with the introduction of space tourism and the ongoing growth of the entire space industry.
Space degrees from Embry-Riddle's Prescott, Arizona, Campus are designed to help meet the continuing demand for the next generation of space professionals.
Embry-Riddle's storied history in flight education has positioned it to become a pioneering institution in offering space-related degree programs. It attracts faculty and students who share a passion for not only aviation but for its younger counterpart — aerospace.
Embry-Riddle is a community of students and faculty bound by shared focus and passions. Our students benefit from building relationships with fellow students, faculty, industry professionals and alliances with organizations and companies like NASA, United Launch Alliance, SpaceX, The Boeing Company, Honeywell, Virgin Galactic and more.
As a student in our space-related programs, you'll enjoy opportunities for hands-on learning, research, internships and access to technologically advanced facilities and equipment.
You are also free to join any of Embry-Riddle's many groups and organizations that are dedicated to space, such as the Mars Society, the Society of Physics Students, the American Astronomical Society and more.
What are Space degrees?
Space degree programs at Embry-Riddle's Prescott, Arizona, Campus prepare you to work in an industry with unlimited horizons and out-of-this-world opportunities, including disciplines and roles that are still evolving as the industry grows. The deep connections between our expert faculty and space exploration companies ensure you will learn on the leading-edge of space innovation.
Where can I work with a Space degree from Embry-Riddle's Prescott Campus?
Our graduates are in demand, and we boast an extremely high hire rate with private companies that include SpaceX, Virgin Galactic and United Launch Alliance, in addition to NASA and the Department of Defense. As the space industry grows, so will opportunities with companies that will be on the forefront of the next generation of space travel.
What are the Space degree programs at the Prescott Campus?
We offer Astronomy, Space Physics and Aerospace Engineering, and those popular degree paths are complemented by degree offerings in Aeronautics, Aeronautical Science and Unmanned Aircraft Systems. Students at the Prescott Campus have access to state-of-the-art facilities that include the Propulsion Lab & Rocket Test Complex, the Space Systems Lab and the Wind Tunnel Lab.
Space Degrees & Programs at Embry-Riddle's Prescott Campus
Are you seeking a degree to help you transition into a new role or launch your space career? To put you on an upward trajectory, Embry-Riddle offers a full complement of space-related degrees at all levels.
Through your studies, you'll gain hands-on experience and real-world applications, learning from faculty who are subject matter experts.
Start on your own path toward expertise by exploring space degree program offerings at Embry-Riddle's Prescott, Arizona, Campus.
Review our non-credit continuing education offerings at proed.erau.edu.
Warning! This rendering references a missing or unpublished data source.
Career Outlook
Teaching future astronauts and space enthusiasts, planning a space mission, ensuring space flight safety, working in mission operation, or helping further the commercialization of space — whichever space career path you choose, a degree from Embry-Riddle's Prescott Campus can help launch you toward your goals.
Our space studies graduates emerge versed in all aspects of spaceflight, including space policy, operations and regulations.
The Bureau of Labor Statistics projects a bright future for workers trained in these key technical skills.
Through 2024, the bureau anticipates 171,900 overall openings for all types of engineers; 8,600 new jobs for astronomers, space scientists and physicists; and 44,400 openings for aerospace engineering, operations, and other technicians.
Our faculty and students are actively involved in space-related research. Read about how they're positively impacting the industry in some recent projects below.
Learning Environments at the Prescott Campus
The Embry-Riddle Prescott Campus features some of the most advanced, high-tech laboratories and facilities available to students.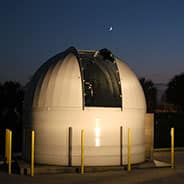 Prescott, AZ Campus
Prescott's mile-high altitude and its location away from major cities provide pristine conditions for viewing the night sky. The Prescott Observatory Complex, ranked in the top 10 best college astronomy observatories by Collegerank.com, features a telescope with a 16-inch diameter connected to a high-precision electronic CCD camera, allowing students to observe the cosmos, make precise measurements of extra-solar planets and take a hands-on approach to learning about our universe.
The Prescott Campus also houses a Cosmic Ray Lab, Propulsion Lab and Laser Interferometer Gravitational-Wave Observatory (LIGO). The LIGO project is a national consortium of universities, including Cal Tech, MIT and Embry-Riddle, who work together on a National Science Foundation grant to detect and study gravitational waves of cosmic origin throughout the universe.