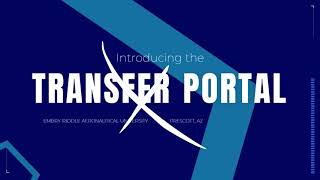 Play Video,
PC Transfer Portal 2023
Embry-Riddle wants you to get credit for courses and exams that you've previously taken. Use the Transfer Portal to get a free, unofficial estimate of how your credits will transfer to different ERAU degree programs.
The Transfer Portal is not intended for current ERAU students. To change your ERAU campus, please complete an Intra-University Transfer form with your Academic Advisor. To take courses at a different university, please complete an Off Campus Petition form in ERNIE (at Worldwide, the Authorization to Enroll at Another Institution form).
After you learn how credit for previous coursework will be applied, see the next steps in receiving financial aid or submitting your application.

Transfer Credit - Obtain your unofficial transfer credit estimate to see how previous coursework would apply to an Embry-Riddle program.

Career Services - Take advantage of tools that will help you stand out in the job market or land a valuable internship or co-op.

Financial Aid - Leverage scholarships, loans and financial aid programs to help fund your college investment.

Checklist - Keep track of important dates and tasks so that you will transfer on schedule.
Prescott Campus Admissions