Embry-Riddle: Engineering a Brighter Future
As new challenges emerge in this ever-changing world, engineers are the ones tasked with developing solutions that can help improve life for everyone.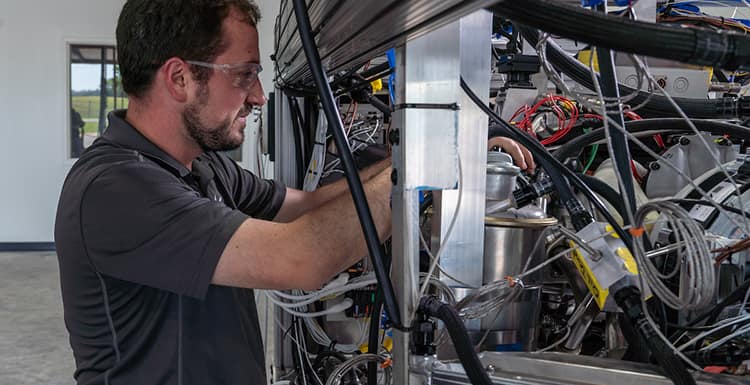 The robust Engineering degree programs at Embry-Riddle's Prescott, Arizona, Campus prepare students to implement change in the world. The nation's largest educator of aerospace engineers, Embry-Riddle is also a premier hands-on educator for other engineering disciplines.
Undergraduate students at Embry-Riddle are introduced to the foundation of engineering in their very first semester. Graduate students are immersed into their research and projects right from the beginning of their program.
All engineering students learn the latest methodologies and study beyond the fundamentals in environments that help them thrive. Our expert faculty has decades of real-world experience, and many are currently involved in innovative research programs.
Whatever engineering path they choose, our students will be challenged to design solutions, incorporating everything from brainstorming ideas, refining design, building and troubleshooting to final testing and project presentation.
What are Engineering degrees?
Engineers make the world work, and our degree programs train them to think critically and solve problems. An Embry-Riddle Engineering degree can help you set a course for career success in aviation, aerospace and beyond, providing you with knowledge, skills and practical experience that today's top employers are looking for.
Where can I work with an Engineering degree from Embry-Riddle's Prescott Campus?
The possibilities are almost limitless. Our engineering degrees are globally respected and have landed our graduates at companies such as Boeing, Lockheed Martin, Northrop Grumman, General Electric, Pratt & Whitney, SpaceX, NASA and the Department of Defense, to name just a few.
What are the Engineering degree programs at the Prescott Campus?
In addition to our nationally ranked programs in Aerospace Engineering, we offer programs in Computer, Electrical, Mechanical and Software Engineering, along with Human Factors Psychology and Simulation Science, Games and Animation. Students can also take advantage of our complete suite of cutting-edge labs and testing facilities.
Engineering Degrees & Programs at Embry-Riddle's Prescott Campus
Embry-Riddle's Prescott Campus has engineering degree programs suited to all types of students — from aspiring engineers to those already in the profession.
As one of the nation's top undergraduate engineering schools, Embry-Riddle offers innovative bachelor's programs that provide you with the tools, training and skills needed to succeed in this exciting industry.
Learn more about what makes the engineering degree programs at the Prescott, Arizona, Campus so unique.
Review our non-credit continuing education offerings at proed.erau.edu.
Embry-Riddle empowers you to enhance your potential for a fulfilling and rewarding career in engineering, and our dedicated faculty and team-driven culture can help you excel in your chosen discipline.
Once you take your place in the workforce as part of the vast Embry-Riddle alumni network, you will be recognized as one of the best in the industry.
The Bureau of Labor Statistics predicts that demand for all engineering disciplines will remain at a high level for the next decade.
While some students go right to work after graduating from Embry-Riddle, others choose to continue pursuing research and/or advanced studies.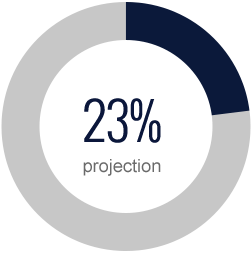 23% of new engineering jobs are projected to be in civil engineering.
Source: U.S. Bureau of Labor Statistics, Career Outlook for Engineers
Our faculty and students are actively involved in engineering-related research. Read about how they're positively impacting the industry in some recent projects below.
Learning Environments at the Prescott Campus
Embry-Riddle's Prescott Campus provides engineering students with hands-on experience and knowledge through our state-of-the-art facilities and modern labs.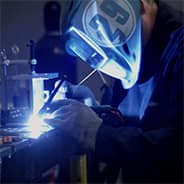 Prescott, AZ Campus
Engineering students at the Prescott Campus have a unique opportunity to work on projects and research in labs dedicated solely to them. Students operate remote and autonomous robots in the Aerial Robotics Lab or fabricate and assemble innovative projects in the Aerospace Experimentation and Fabrication Building, better known as AXFAB. In the AXFAB labs, students conduct prototyping using 3-D technology, test physical material specimens used in aerospace platforms and heat-treat materials to prepare specimens for analysis.
Beyond the AXFAB labs, students also use the Wind Tunnel Lab, Robotics Lab, Propulsions Lab, Materials Testing Lab and Structures Lab.
In addition, students are using the Advanced Vehicle Lab to design and construct an electric land-speed-record car to run at the Bonneville Salt Flats.
The STEM Education Center is Prescott's new two-story building which covers 52,000 square feet of space and contains over 20 industry-grade laboratories, replete with innovative technological equipment unique to each STEM program the university offers. In addition to the top-ranked undergraduate aeronautical and aerospace engineering programs in the country, the STEM Center's facilities support degrees in astronomy, forensic biology, space physics, wildlife science, and the new bachelor's degree in Simulation Science, Gaming and Animation.