In the 2087-19 academic year, The Eagles won their fifth consecutive Cal Pac Commissioners Cup and five conference titles. Over the years, we're proud to report: 70 NAIA All-Americans, 235 NAIA Scholar-Athletes, 29 Cal Pac Conference Championships, and eight wrestling national championships.
From team sports to intramural activities and sports clubs, Eagle Athletics represents the very best Embry-Riddle has to offer. This is where students develop the skills - physical, social, and intellectual - necessary for success
High-Level Competition in World-Class Facilities
Explore your interests and exhibit your talents in one or more of our nine sports: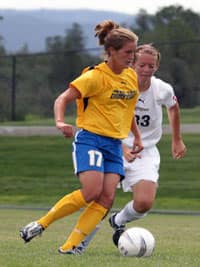 Embry-Riddle Soccer
Men's Cross Country
Women's Cross Country
Men's Golf
Women's Golf
Women's Fast-Pitch Softball
Men's Soccer
Women's Soccer
Volleyball
Wrestling
Basketball
Competing in the National Association of Intercollegiate Athletics (NAIA), Embry-Riddle is a proud member of the California Pacific Athletic Conference (CAL PAC). Representing ERAU through competition on both the regional and national stages, our varsity athletics programs have garnered respect on the playing fields and in the classroom.

In just the third year as a member of the California Pacific Athletic Conference, the Eagles earned three outright conference championships in men's soccer, women's golf, and men's golf and finished a close runner-up in women's soccer and men's cross country title matches. At the national level, men's golf, wrestling, and women's golf all earned top 25 national rankings. Our young scholar athletes earned 11 NAIA scholar athlete designations, 5 All-American designations, and several all-conference athlete awards.

Embry-Riddle Prescott has launched men's basketball. The new coach is Eric Fundalewicz, who has more than 12 years of coaching experience, turns losing teams into winners, and more importantly fully embraces the Embry-Riddle "Scholar Athlete" tradition.
Two of our Embry-Riddle teams completed their inaugural seasons in 2014. Men's and women's cross country placed 2nd and 4th in conference and our very own freshman harrier Bailey "Riddle" earned all Cal-Pac honors, and received an invitation to compete at the national championships. Women's Softball completed a valiant first season with only 11 players and earned some improbable wins against much larger squads. The only thing Embry-Riddle Athletics is missing is you!
Scholarships & More
Competitive scholarship opportunities exist for student-athletes who have demonstrated a superior commitment to athletics, academics, and character. For specific information about those opportunities, contact a coach via the athletics website.
3700 Willow Creek Road
Prescott, AZ 86301