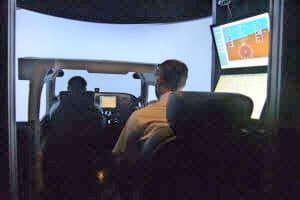 The Embry-Riddle Prescott Campus uses Paradigm Advanced Aircraft Training Devices (AATD) to complement our fleet of Cessna 172 Skyhawk aircraft. The FAA-certified AATDs feature aircraft model-specific aerodynamic programming, control loading, and a Garmin G1000 glass cockpit layout that precisely replicates our fleet of Cessna 172s.
To increase the effectiveness and value of training, the 172 Skyhawk AATDs feature Paradigm's unique wraparound visual display system, which delivers a panoramic view of simulated runways, airports, and terrain.
This high level of realism allows our private-pilot students to safely and cost effectively practice procedures and maneuvers they will be expected to perform in the actual aircraft. It also gives them the capability to gain confidence with the advanced G1000 avionics suite in a controlled environment.
The AATDs can also replicate sophisticated training scenarios, including weather, traffic, ATC communications, emergencies, and other real-world situations. These scenarios help our student pilots train for a variety of situations that we would not be able to safely demonstrate in the actual aircraft.
Embry-Riddle Prescott currently operates three Paradigm Cessna 172 AATDs in the University's Robertson Flight Simulation Center.
3700 Willow Creek Road
Prescott, AZ 86301