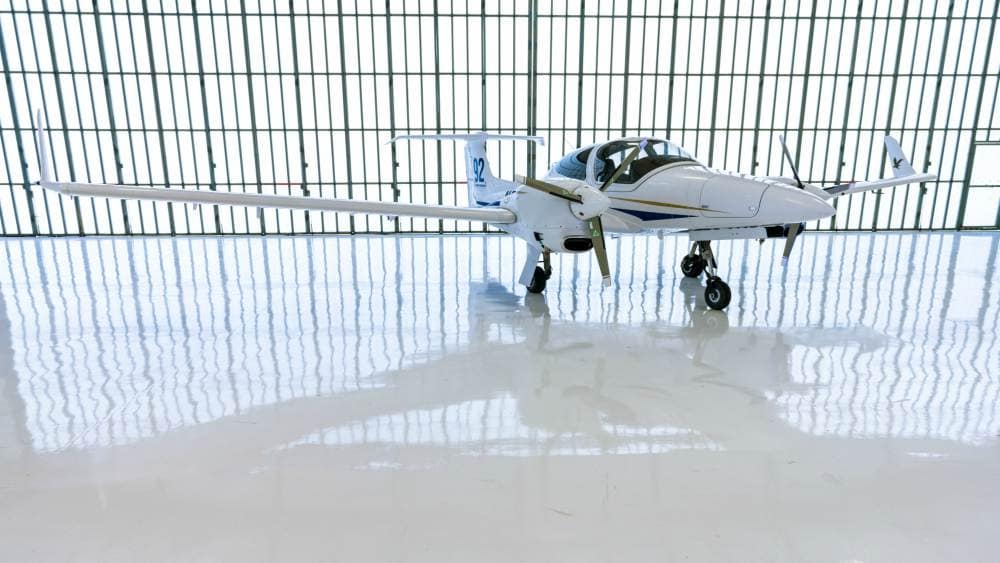 Multi-Engine Excellence
Students attending school at Embry-Riddle's Prescott Campus will do all of their multi-engine flight training in the new Diamond DA42NG (Next Generation). And it truly is "next-gen."
The DA42NG combines Garmin G1000 glass-panel avionics with new-generation Austro AE300 turbo diesel engines, equipped with Full Authority Digital Engine Control (FADEC) to create one of the most advanced multi-engine training aircraft in the world.
Embry-Riddle Prescott selected the new DA42NG because it offered so many advantages over prior-generation designs, including its all-composite construction, Garmin G1000 avionics, and efficient, 168-horsepower, turbocharged diesel engines.
Diamond Aircraft has raised the bar for multi-engine training aircraft, and the DA42NG has proven to be the aircraft ERAU was looking for.
A True Next-Generation, Light-Twin Training Aircraft
While each new DA42NG comes equipped with an advanced G1000 glass cockpit, the ERAU fleet was upgraded to include an Automatic Dependent Surveillance-Broadcast (ADS-B) traffic and weather system. This provides our students and instructors with greater situational awareness throughout all phases of flight.
Prescott DA42NGs are also equipped with Garmin Synthetic Vision Technology (SVT). SVT gives our students and instructors a realistic, color-enhanced, 3-D perspective view of taxiways, runways, and the terrain and obstacles in the aircraft's flight path.
In addition, because our training often includes high-altitude operations, the Prescott DA42NGs feature external oxygen so our students gain familiarity and confidence with these systems.
Currently, Embry-Riddle's Prescott Campus operates a fleet of four DA42NG multi-engine training aircraft. We believe these aircraft give our advanced flight students the perfect balance of safety and performance. These exceptional planes provide our students with the best overall foundation for their professional flying careers.
3700 Willow Creek Road
Prescott, AZ 86301