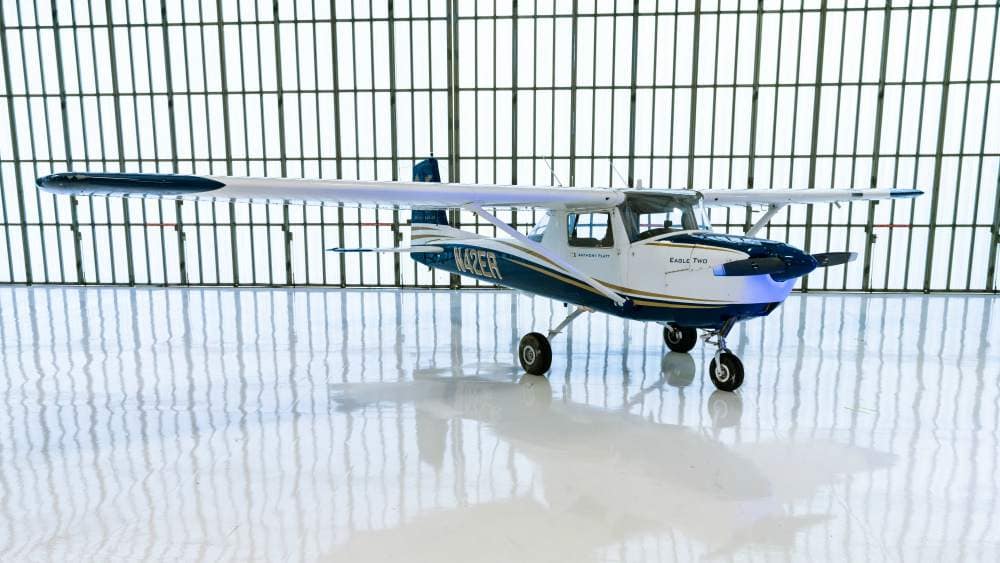 The power behind the success of Embry-Riddle Prescott's Golden Eagles Flight Team lies in the two Cessna 150s that team members fly during competitive events. Dubbed "Eagle 1" and "Eagle 2," these fine aircraft in the hands of skilled pilots have helped to establish a tradition of excellence while participating in National Intercollegiate Flying Association (NIFA) competitive events.
Both aircraft have upgraded 150-horsepower Lycoming O-320 engines, which give the 150s outstanding performance in Prescott's higher elevation. The aircraft also have flaps that extend to a full 40 degrees, which give them exceptional slow-flight characteristics and enable extremely accurate landings.
Eagle 1 and Eagle 2 were purchased by alumni exclusively for Golden Eagles use and are expertly maintained by the Embry-Riddle Prescott Flight Department's dedicated maintenance staff.
Thanks to the versatile Cessna 150s and the skills of our team pilots, the Golden Eagles Flight Team has won every NIFA Regional Championship since 1987.
3700 Willow Creek Road
Prescott, AZ 86301