Biology and Chemistry Internships
Students pursuing a degree in Forensic or Wildlife Biology will have a wide range of career opportunities available to them upon graduating. At Embry-Riddle, we give students of Biology and Chemistry degrees the opportunity to gain valuable workplace experience by undertaking a variety of exciting and educational internships. Here are just a few students who have provided insight into their internships:

Forensic Biology Student's Internship at Desert Tox, LLC.
"When I started in the forensic biology program at Embry-Riddle, I didn't exactly know what direction I wanted to go in. Since the major is filled with many different paths including biology, chemistry and even law, I wanted to explore my options. To challenge myself, I looked for an internship involving chemistry because after taking 5 semesters of chemistry in the course of my undergraduate career, I felt like it would be beneficial for me to explore the field outside of the classroom."

Playing in the Dirt: Interning at a Cement Manufacturing Plant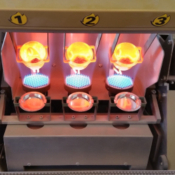 "This summer, I had the incredible opportunity to work for a cement plant as a quality control intern, learning the chemical and physical components that goes into making cement. This internship was designed to further my knowledge in my degree program, forensic biology. Though the two seem unrelated, the education I received in my courses, both in the lab and in the classroom, proved invaluable to learning and utilizing the chemistry used to make cement. In return, working at a cement plant provided important lessons that I can apply for the rest of my life."

Internship at the Endophyte Service Lab at Oregon State University
"My summer at the Endophyte Service Lab at Oregon State University in Corvallis, Oregon has been an enlightening and very knowledgeable experience. This opportunity has provided me with the experience to greatly increase my knowledge and understanding of skills in the areas of chemistry, toxicology, and teamwork, as well as closely relate to my future aspirations of becoming a forensic biologist. If it weren't for the practice and knowledge I obtained from my courses at Embry-Riddle, such as Foundations of Biology, General Chemistry, Organic Chemistry, Microbiology, and Genetics, I would have never been prepared for the massive amounts of micropipetting I had to perform as well as any of the terminology or basic skills needed to achieve good results at my job."

To see more of what Embry-Riddle student life is like, check out more blogs at My Life @ Riddle.