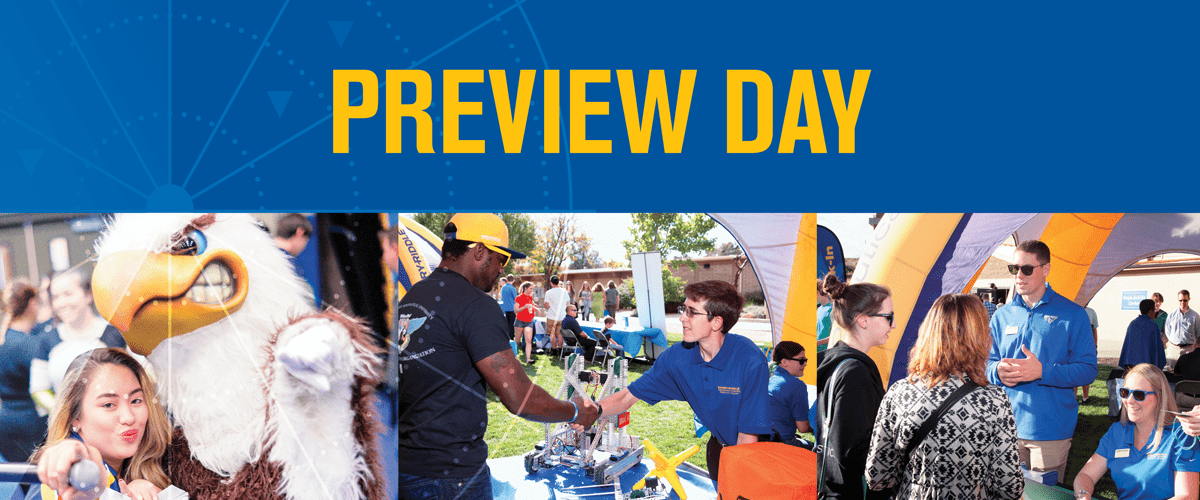 Admitted students are invited to visit the Prescott campus of Embry-Riddle Aeronautical University at our upcoming Preview Day event on Saturday, March 28, 2020.
Here's your chance to experience what it's like here at Embry-Riddle. You'll hear from your professors, talk to current students, see our facilities in action, and even get a chance to sign up for fall classes.
Event Overview
Check-In and Continental Breakfast 8:30am – 9:00am
Welcome
Academic Program Meetings by College
Campus, Flight Line, and Residence Hall Tours
Lab and Special Facility Open Houses
Complimentary Lunch
Various Information Sessions (Including Air Force and Army ROTC, study abroad, honors program, veterans' information, and faculty lectures.)
Planetarium shows
Get your Eagle Card (student ID)
New Student Registration – Must have submitted tuition deposit
Student Organizations and Campus Services Fair
Discovery Flights at the Flight Line (advance registration required; see below)
Details are subject to change
Additional Activities
Friday, March 27 offers additional activities (optional):
Campus and flight line tours departing every half hour 9:00am – 3:00pm
Air Force ROTC briefing (same as Saturday session)
Undergraduate Research Institute (URI) Discovery Day
Discovery Flights at the Flight Line (advance registration required; see below)
College of Security and Intelligence Studies Faculty Debate
Astronomical Observatory Viewing
New Student Meetup
Parent and Family Reception
Financial Aid
Individual financial aid appointments are available on Friday, March 27 and Saturday, March 28 for those who have already filed the FAFSA and received their award letter. Please schedule your appointment in advance at (928)777-3765 or by emailing prfinaid@erau.edu.
Discovery Flights at the Flight Line
Availability is limited; you must reserve your flight prior to Tuesday, March 24, 2020 (Friday flights) or Wednesday, March 25 (Saturday flights). Weather permitting. The cost is $95 plus tax for 40 minutes in the Cessna 172, $175 for 25 minutes in the R22 helicopter, or $325 for 25 minutes in the R44 helicopter. Plan one hour for the entire activity. Closed-toe shoes and long pants are required. Please plan to drive your own vehicle to the flight line.
Fixed-wing: Call Flight Scheduling at (928)777-4302 or email reyesm22@erau.edu. You will be sent a link to submit advance online payment by credit card.
Rotary-wing: Contact UHI at (928)777-4227.
A detailed draft schedule will be available under Related Resources when it is closer to the event.
Prescott Campus Admissions