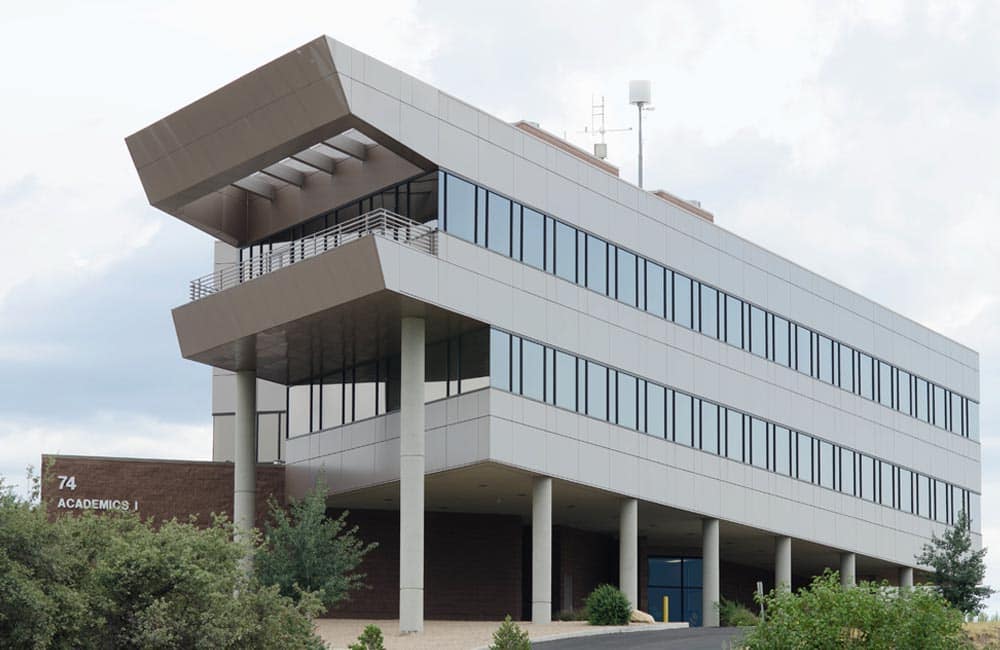 The Academic Complex, called "AC1" by most everyone on campus, is the main classroom building, housing classes ranging from Business to Weather Sciences. A half-scale replica of the Wright Flyer that was donated to the school by the Experimental Aircraft Association hangs in the lobby of AC1, while classrooms, labs, and two lecture halls sit around the perimeter.
New engineering students will frequent the building for classes to learn 3-D design software such as CATIA, MATLAB, and SolidWorks, while senior engineering students can be found in the Senior Design Lab working on their projects. While most majors will have a variety of classes in this building, it is also home to many faculty and deans' offices on the second and third floors, where you will can find students talking shop, curriculum, or about life in general with their mentors.
Special labs in the AC1 include:
The Weather Center: This room, called "the Weather Lab" on campus, features seven flat-screen monitors displaying various current weather patterns from the Flagstaff National Weather Service station. The lab also houses controls for radar equipment that sits atop AC1 and is used to record current weather readings. The space acts as a computer lab and study space for Meteorology majors.
Airway Science Lab: This classroom and computer lab features Microsoft Flight Simulator on every computer and the joystick controls to utilize that simulation software. Students taking Electronic Flight Management Systems will learn how to use autopilot in this lab. As their final exam, flight students will run a simulation of takeoffs, landings, departures, and arrivals in Embry-Riddle Virtual Airspace (ERVA) while an air traffic control class simultaneously handles the simulation from the Air Traffic Control Lab. Next door to this lab is a student-built simulator of an Airbus A320 that the flight simulator club makes available for student use a few times each week.
Prescott Academic Complex
AC1, Building 74