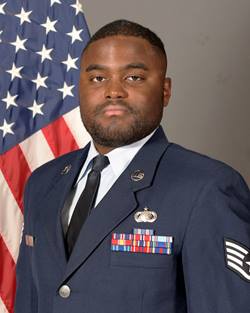 Staff Sergeant Elijah Simmons is the Non-Commissioned Officer in Charge (NCOIC) of Cadet Actions for the Air Force Reserve Officer Training Corps (AFROTC) Detachment 028 at Embry-Riddle Aeronautical University, Prescott, Arizona. He is responsible for managing several areas of administrative support for the detachment, including coordination with the United States Air Force School of Aerospace Medicine and Air Force Personnel Center in support of career progression for Air Force Officer Candidates.
Sergeant Simmons joined the Air Force in August 2015. After graduation from Basic Military Training, he continued to complete the Personnel Apprentice Course in October 2015 at Keesler Air Force Base (AFB), Mississippi. His military career began as a Personnelist with the 2d Maintenance Squadron at Barksdale AFB, Louisiana. He started with the Commander's Support Staff, where he performed personnel actions, which included handling both Enlisted and Officer evaluations, adverse actions and much more.
He then transitioned to HQ AFOSI located at MCB Quantico, Virginia, where he performed as the Force Management Technician, Customer Support NCO, Outbound Assignments NCO and the NCOIC Personnel Programs for the Military Personnel Flight along with the HQ OSI Commander's Support Staff. His responsibility included the effective management of 264 detachments and directly supported the OSI mission both stateside and overseas. His extensive work and leadership have led to numerous accolades, such as Commander Support Staff of the Quarter and being coined by CMSAF JoAnne Bass.
Prescott Campus Admissions