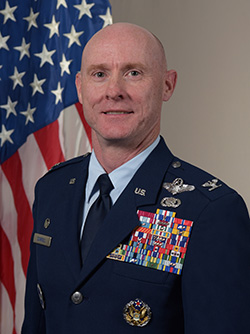 Colonel Douglas T. Carroll is the Commander and Professor of Aerospace Studies for Air Force Reserve Officer Training Corps (AFROTC) Detachment 028, at Embry-Riddle Aeronautical University, Prescott, AZ.
Col Carroll is a 1993 graduate of Embry-Riddle Aeronautical University, Prescott, AZ where he received his commission as an AFROTC Distinguished Graduate with a Bachelor of Science degree in Computer Science. He has served in numerous operational, staff, and command assignments including Commander, 353d Special Operations Support Squadron, Kadena AB, Japan; 353d Expeditionary Special Operations Group, Philippines; and Vice Commander, 58th Special Operations Wing, Albuquerque, NM. Col Carroll is a 2013 graduate of the US Naval War College where he earned a Master of Arts Degree in National Security and Strategic Studies.
Col Carroll has deployed in support of Operations JOINT GUARD, JOINT ENDEAVOR, ALLIED FORCE, ENDURING FREEDOM, IRAQI FREEDOM, TOMODACHI, and ENDURING FREEDOM-Philippines, as well as the execution of numerous counterdrug missions for PLAN COLOMBIA.
Prior to his current position, Colonel Carroll was the Director of Strategy, Plans, & Policy at Special Operations Command Europe, Stuttgart, Germany, where he was responsible for translating national theater guidance into operational-level strategy and plans to achieve theater and campaign objectives, as well as programming and coordinating the execution of $152 million of special operations and conventional force funding annually.
Air Force ROTC
Administration
3700 Willow Creek Road
Prescott, AZ 86301