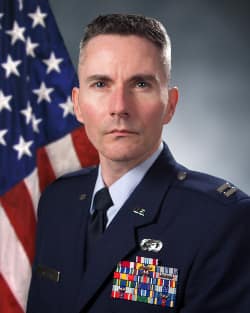 Captain Charles L. Ruddek is a Professor of Aerospace Studies at Embry-Riddle Aeronautical University, Prescott, Arizona.
Capt. Ruddek received his commission from Officer Training School in 2014. Immediately afterwards, he attended Intelligence Officer training at Goodfellow AFB, TX. As an Intelligence Officer, Capt. Ruddek's first assignment was to Scott Air Force Base in support of AMC/A2. At AMC, Capt. Ruddek initially worked as a CENTCOM Geopolitical Analyst, then as a member of the Threat Working Group. In this role, he facilitated Intelligence assessments informing global AMC operations.
Next, he became the Chief of Strategy and Policy, where he managed long-term threat mitigation for the C-5 Galaxy, KC-10 Extender, C-17 Globemaster III, C-130 Hercules, C-130J Super Hercules, KC-135 Stratotanker, C-20, C-21, C-32, C-37 and C-40, affecting nearly 49,000 active-duty military and civilians, 42,000 Air Reserve Component military and 35,000 Air National Guard members.
Afterwards, Capt. Ruddek moved to Wright-Patterson AFB, where he spent a year as an Intelligence Advisor for the Air Force Research Laboratory and was the acting Wing Senior Intelligence Officer at the 711th Human Performance Wing for six months. In this role, he served as ISR focal point for three US installations, providing guidance and industrial security oversight for 2,000 military/civilian personnel and a $250M research and development portfolio.
Next, Capt. Ruddek became the Commander of the Directed Energy Weapons Flight at the National Air and Space Intelligence Center, where he supervised 30 personnel (a mixed DoD workforce) to create national-level intelligence assessments broadcast to 854K members of DoD intelligence community. In this role, he chaired three Continuous Process Improvement Events and facilitated Agile Development strategy to seamlessly incorporate groundbreaking data-science principles into the existing production workflow, successfully executing the largest change to the mission in 30 years.
Air Force ROTC
Administration
3700 Willow Creek Road
Prescott, AZ 86301