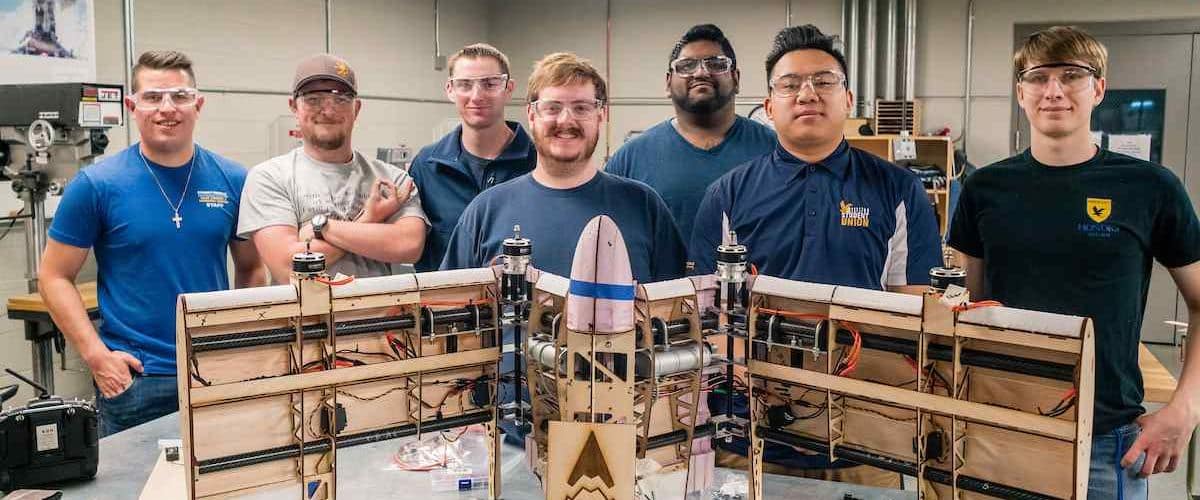 Undergraduate research plays a large role in the academic and student life of Embry-Riddle Aeronautical University. Every year, our Prescott campus is buzzing with a variety of incredible developments in the realms of aviation, engineering, security and intelligence, or arts and sciences.
Here you will learn about some of the most recent student led projects that pushed boundaries and forged new and unexplored territory in the disciplines that Embry-Riddle offers its students.
Urban Air Mobility (UAM) Designs
This project partnered with Honeywell and sought to examine and calculate the various performance parameters and characteristics to help mold the Urban Air Mobility (UAM) industry, making air taxis and making them a general transportation method for the public.
Learn more from Mechanical Engineering student Brooklyn Cross:
---
Gravitational Modeling
This project measures the location and speeds of celestial bodies such as planets, moons, and asteroids. This allows scientists to plan and test space trajectories, and our team is the first to create the first publicly available Julia language translator of this type.
Learn more from Computer Engineering and Space Physics student, Parker Landon:
---
Measuring Spectroscopic Data of Eta-Carinae
One of the most extreme objects in our galaxy is a massive binary star, Eta-Carinae. Our research team takes a look at the spectroscopic data of this binary star to understand binary stars' behavior more clearly, and determine potential future eruptions of Eta-Carinae.
Learn more from Astronomy student Alexis Lane:
---
Aviation Cybersecurity Competition: Aviation ISAC
This research team developed an international Aviation Cybersecurity Competition for the Aviation Information Sharing and Analysis Center (ISAC). We developed a cybersecurity competition to more effectively train to combat international cybersecurity threats.
Learn more from Cyber Intelligence and Security student Kevin Hood:
Dr. Anne Boettcher
Undergraduate Research Institute Director
Ginger MacGowan
Administrative Assistant, URI