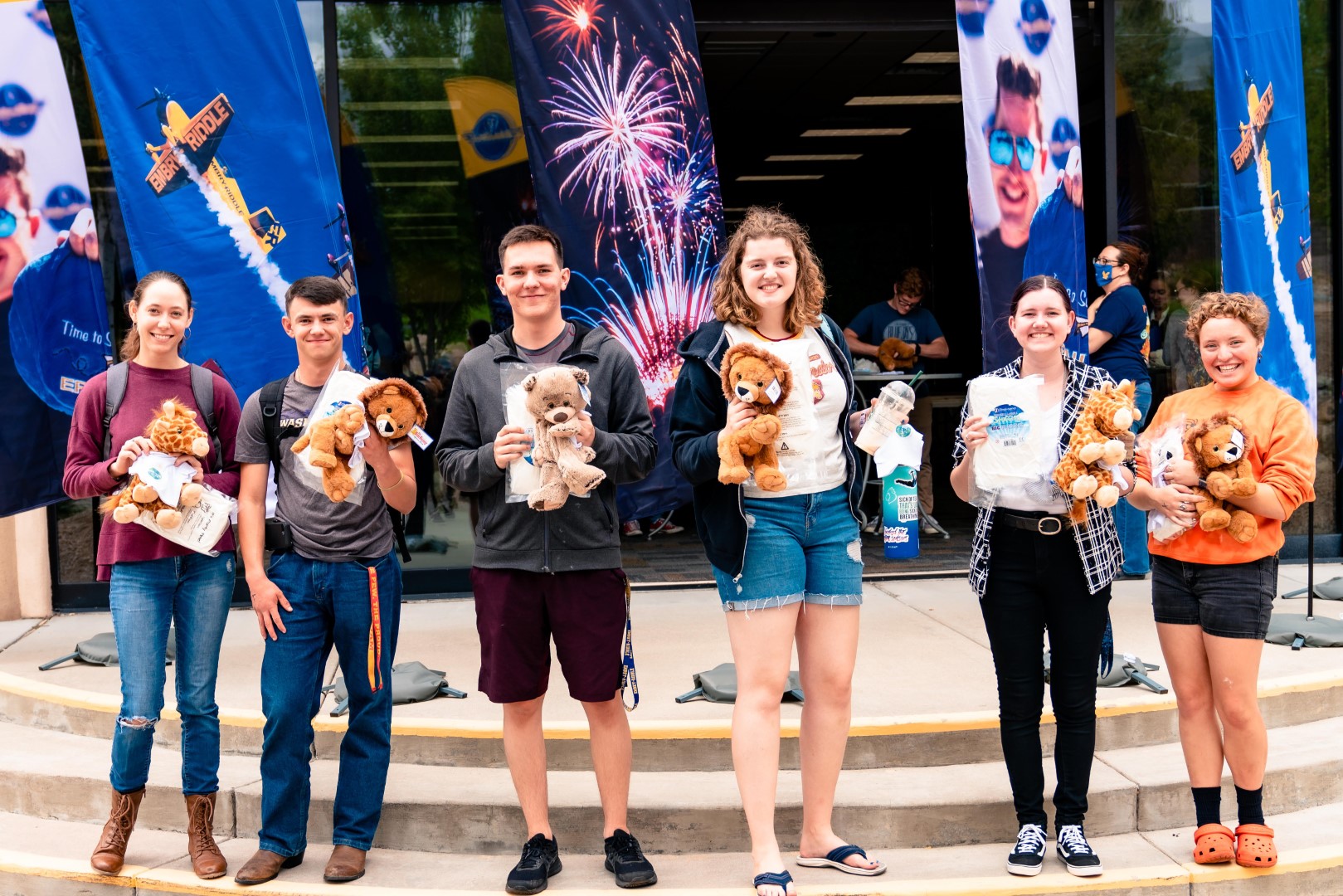 What Is OctoberWest?
OctoberWest is the Embry-Riddle Prescott campus' Homecoming week. It celebrates the uniqueness of the campus and includes events for students, alumni, faculty and staff. Signature events include the Industry/Career Expo, Alumni Eagle Night, Friday Fair and multiple spirit events throughout the week.
The schedule below includes opportunities for Alumni and Students to meet and network.
For Alumni-specific events and registration, click here.
For Students, Faculty and Staff, your engagement opportunities with Alumni are below. Please click the links to RSVP.
2023 Event Schedule
Event
Time
Location
Audience
Monday, October 2
Kickoff: Breakfast
9-11 a.m.
Courtyard
Students
Gigi Coleman One Woman Show/Bessie Coleman

4-6 p.m.
Lower Hangar
All are welcome
Tuesday, October 3
Royalty Meet and Greet & Ice Cream Social
Noon-2 p.m.
Courtyard
Students
Allegiant Airlines Alumni Speaker
2:50-4:05 p.m.
Davis Learning Center
Students, Alumni
Something Old Something New Karaoke
7-9 p.m.
Lower Hangar
Students
Wednesday, October 4
Stuff a Plush

Noon-2 p.m.
Porch / Lower Hangar (backup)
Students
Career Services Student Veterans Recruiting Event

5-6:15 p.m.
Student Union Lower Hangar
Students, Alumni
Industry/Career Expo Company Presentations

Various
Various
Students, Alumni
Age of Airplanes
8 p.m.
Planetarium
Students, Alumni, Faculty, Staff
Thursday, October 5 - No Classes
Royalty Voting

10 a.m.-2 p.m.
Student Union Inside Tabling Locations
Students
Industry/Career Expo
10 a.m.-4 p.m.
Activity Center/Eagle Gym/AC1 Atrium
Students, Alumni
Alumni Check-in and Lounge
10 a.m.-4 p.m.
Building 37
Alumni
Age of Airplanes
3 p.m.
Planetarium
Students, Alumni, Faculty, Staff
Eagle Night (RSVP Required)
6:30 p.m.
Hassayampa Inn, Marina Room
Alumni, Graduating Seniors, Faculty, Staff

Friday, October 6
ERAU Women's Breakfast (RSVP Required)
8:30-10:30 a.m.
Library
Students, Faculty, Staff, Alumni
Alumni Check-in and Lounge

10 a.m.-4 p.m.
Building 37
Alumni

Alumni Crash Lab Tour

10 a.m.
RASC 1. Building 21
Alumni
Alumni Campus Tours
11 a.m. & 2 p.m.
Building 41
Alumni
College of Engineering Alumni Pizza Lunch
Noon-1 p.m.
Student Union Courtyard
Students, Alumni
Age of Airplanes
3 p.m.
Planetarium
Students, Alumni, Faculty, Staff
Friday Fair Featuring: Inflatables, Food Trucks, Music, Beer Garden and Drone Show Finale
4-8 p.m.
Rec Fields
Students, Alumni, Faculty, Staff
Riddle Reunion Reception (RSVP Required)
5-7 p.m.
Student Union Lower Hangar
Alumni, Faculty, Staff
Saturday, October 7
Campus Bookstore
10 a.m.-4 p.m.
Bookstore
All are welcome
Alumni Fly-In & BBQ
11 a.m-2 p.m.
ERAU Flight Line
Alumni, Students, Faculty, Staff
Age of Airplanes

2 p.m.
3 p.m.
4 p.m.
Planetarium
Public Shows
Women's Soccer Game
5 p.m.
Soccer Field
All are welcome
Golden Eagle Flight / NIFA Championship Ring Ceremony & Reception
5-7 p.m.
ERAU Flight Line
All are welcome
Men's Soccer Game
7:30 p.m.
Soccer Field
All are welcome
Sunday, October 8
Age of Airplanes
2 p.m.
3 p.m.
4 p.m.
Planetarium
Public Shows
3700 Willow Creek Road
Prescott, AZ 86301