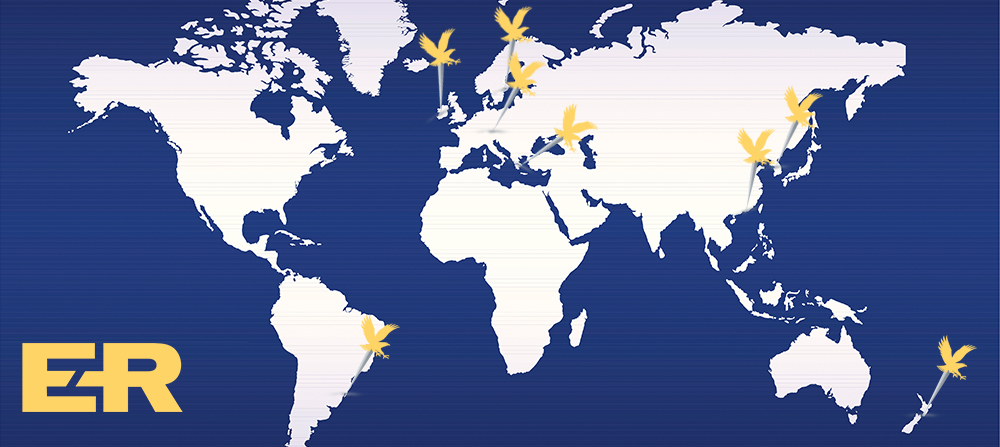 Embry-Riddle students have been all around the globe on once-in-a-lifetime journeys that enriched their cultural and scholastic studies forever. Before beginning your own Study Abroad travel with us, you can learn from our past students' experiences! Read some of the exciting study abroad blog posts below.
Belfort, Trains, Fish, and Waffles... oh Belgium
"So, we landed in Amsterdam yesterday at 6:30 am. We lost 8 hours of our lives on that flight so the jetlag hit us hard. We decided to take a train to Brussels and kinda explore around the area. We get there, find our hotel, and then go out to eat..."
---
Study Abroad - Seven GSIS Credits in the United Kingdom
"My name is Marquette Davis and I studied abroad in the United Kingdom for one month in the summer of 2016. Although this program is called a study abroad in England, I say the United Kingdom because in the month that we were there, we were not just in England. We had the opportunity to explore the entire United Kingdom..."
---
Study Abroad - The City of Lights: Paris
"It has many names... The City of Lights, The City of Love, but I'm lucky enough to call it home. When I moved to Paris at the beginning of spring semester, I was ready and excited for a new experience. I had spent two and a half years at school in Prescott, and although I love it there, I wanted to try something new. Paris has turned out to be just that, and then some..."
---
Q & A Study Abroad in Germany
"Going to Europe for an extended stay can be a bit intimidating at first, there are a lot of things to take care of. Hopefully this will answer some of your questions and get everything set up..."
---
Study Abroad India 2015 - A Country of Stark Contrasts
"I haven't done too much traveling around the world so far, but in my experiences I thought I would be prepared for what the Indian sub-continent had to offer because of learning in the classroom and watching YouTube videos. Actually these only prepare you for so much. The adventures and experiences I had on this trip were both unforgettable and humbling..."
---
I'm in Ireland Right Now on Study Abroad!
"I love this University, the people in it, and the things I get to do which right now includes the travel portion of my semester-long Ireland course through the College of Security and Intelligence..."
---
Study Abroad: A Semester in Italy
"Hi I'm Briana Martinez, a student in GSIS at Embry-Riddle but am spending a semester in Florence Italy attending an Italian university through International Studies Abroad. I thought you might like to hear about some of what I've experienced so far..."
---
Lauren's Study Abroad with Semester at Sea Jan 24, 2016 - Japan
"Hi I'm Lauren and I'm a student at Embry-Riddle in Engineering. For 100 days I am traveling around the world in a study abroad program called Semester at Sea. I will be posting blogs, reflections and photos of my journey under this Embry-Riddle blog site, profile "Study Abroad". I hope you follow me on my journey!"
---
Boren Scholar: Ryan Marr in Tanzania
"Ryan Marr (GSIS) is in Tanzania on an African Flagship Languages Initiative (AFLI) scholarship from the Boren awards. He spent last semester studying Swahili and living with a host family in Arusha, Tanzania. Now, he is doing an internship at Nkoaranga Lutheran Hospital..."
---
Morocco Study Abroad Pt. 1: The Beginning
"Since the moment I landed in Morocco, this study abroad experience has been nothing short of an adventure. Taxiing over to Rabat, I quickly blended into the hive of 26 other confused Americans, all sharing their university and degrees, while desperately trying to recall the others' names. When I share my background of aviation with Embry-Riddle, I get the usual... "
Kelly O'Brien, Ed.D.
Director Study Abroad & Global Engagement (SAGE)