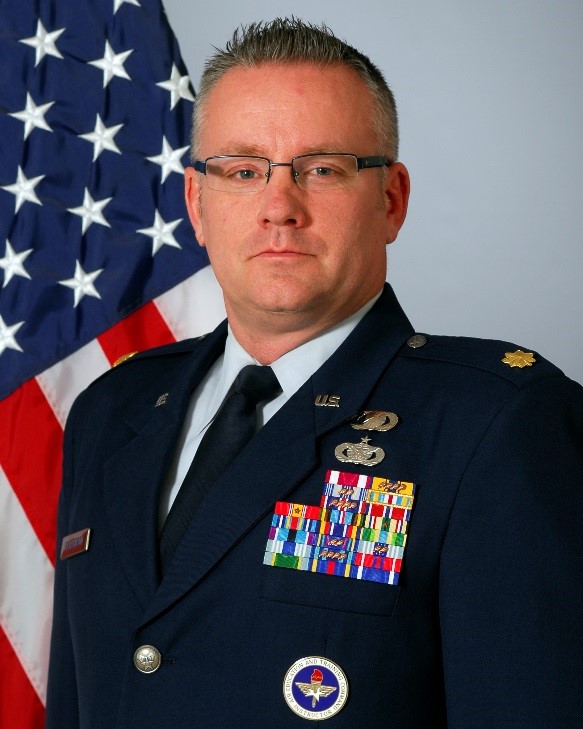 Major Richardson is the Operations Officer for Air Force Reserve Officer Training Corps (AFROTC) Detachment 028, at Embry-Riddle Aeronautical University, Prescott, Arizona.
Maj Richardson received his commission from Officer Training School in 2006 after spending 15 years enlisted in Security Forces. During his enlisted years, he was assigned to in a variety of positions, including Law Enforcement Desk Sergeant and Flight Chief. His assignments included time in North Dakota, Turkey, United Kingdom, Nevada, Saudi Arabia, Japan, and Pakistan. He has been deployed numerous times including Bosnia-Herzegovina, Saudi Arabia, and most recently Pakistan. As a 2d Lieutenant, he was assigned as an Acquisitions Officer at Los Angeles Air Force Base (AFB), California, where he served as a program manager, an executive officer, and a staff officer to the Space & Missile Systems Center Commander. Upon completion of his tour, he was assigned to the C-17 Combined Program Office, where he again performed duties as a program manager and executive officer.
Maj Richardson is a Distinguished Graduate from Officer Training School and Airman Leadership School. He has twice been selected as his unit's Company Grade Officer of the Year and was the AFROTC Instructor of the Year for 2015, AFROTC Education Flight Commander of the Year for 2016, and the Southwest Region Operations Officer of the Year for 2017. While enlisted, he was selected as the Air Warfare Center's Noncommissioned Officer (NCO) of the Year out of over 3,500 NCOs.
Prior to his current position, Maj Richardson was the Executive Officer, C-17 Program Office, Robins AFB, Ga.