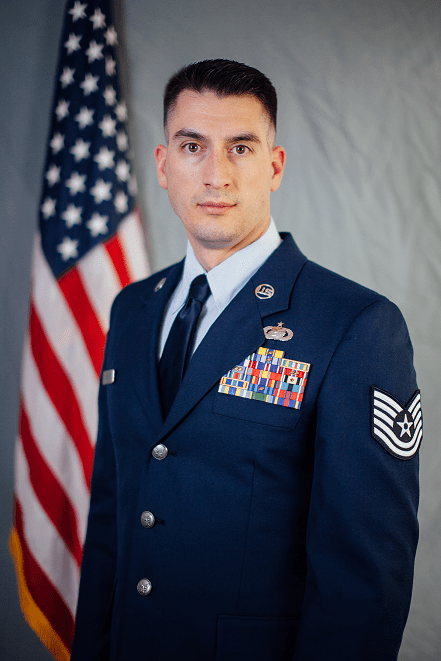 TSgt Rolfe is currently assigned to the Air Force Reserve Officer Training Corps (AFROTC) Detachment (DET) 028 as the Non-Commission Officer In Charge (NCOIC), Prescott, Ariz. He joined the Air Force in June 2005 and graduated from Basic Military Training at Lackland Air Force Base, Texas in 2005. TSgt Rolfe spent five years working in a wide variety of offices at his first duty station in Minot AFB, N.D. He first served as a Personnel Apprentice in the Commanders Support Staff (CSS) of the 5th Aircraft Maintenance Squadron, 5th Bomb Wing. He then moved to the Force Management Element of the Force Support Squadron (FSS) and finally into the Installation Personnel Readiness (IPR) where he worked as a Journeyman for both the 5th Bomb Wing and the 91st Space Wing for two years before PCS'ing for his first time to the Officer Training School (OTS), Maxwell AFB, Ala.
While in OTS, TSgt Rolfe was assigned as the Technician of Assignments in the 22nd Training Support Squadron where he managed assignments, the personnel reliability program, and security clearances for over 700 newly accessed Active Duty officers annually. After 2 years in the 22nd Training Support Squadron, he moved up to the 24th Training Squadron where he executed the duties of the Registrar and coordinated with Air Force Recruiting Services, Air Force Reserve Command, Air National Guard and ROTC to build and maintain inbound future officer training records on 700+ OTS trainees annually. With an opportunity to work at the Holm Center Headquarters, TSgt Rolfe accept the roll as the NCOIC for the Commanders Support Staff by a direct hire from the Holm Centers Chief and maintained that duty section for approximately 2 years before PCS'ing.
While in Minot AFB, TSgt Rolfe had deployed to Kirkuk, Iraq; Kabul, Afghanistan; Bagdad, Iraq and Ali Al Salem, Kuwait. While at OTS, TSgt Rolfe has also deployed to Djibouti, Africa.