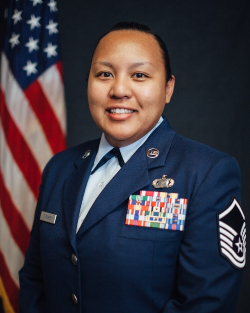 Sergeant Marian April Pimentel Fargher is the Sub Region Section Chief for detachments assigned to Arizona State University, Northern Arizona University, University of Arizona, and University of New Mexico. She is attached to Air Force Reserve Officer Training Corps (AFROTC) Detachment 028, at Embry-Riddle Aeronautical University, Prescott, Arizona. Her responsibilities are to provide SNCO guidance to assigned NCO's, mentor and lead them both personally and professionally, and establish accountability of Professional Military Education (PME), upgrade training, job proficiency and personal development. She is also responsible for managing several areas of personnel and administrative support for Cadre and Air Force officer candidates at Detachment 028.
Sergeant Fargher enlisted in the Air Force in February 2005 as a personnel specialist. She completed the Personnel Apprentice Course in May 2005 at Keesler Air Force Base, Miss. She has 10 years of active duty service with experience working in base level personnel support positions and Commander Support Staff (CSS) teams at the unit, group, wing and field operating agency level. Sergeant Fargher was first assigned to Holloman AFB, N.M. She was assigned to several personnel positions which contributed to the unit winning the 2007 Air Combat Command Mission Support Squadron of the Year and also her selection as the 49th Mission Support Squadron Airman of the Year 2007. During her assignment to Royal Air Force (RAF) Lakenheath, United Kingdom, she worked for the Wing Additional Duty Cell as a Security Manager.
Sergeant Fargher was deployed to Camp Bucca, Iraq in 2007 in support of Operation IRAQI FREEDOM as PERSCO and also augmented the 886th Expeditionary Security Forces Squadron in Detainee Operations. Sergeant Fargher deployed to Ali Al Salem AB, Kuwait as a DCAPES Operator in support of Operation NEW DAWN.
Prior to her current position, the Sergeant was the NCOIC of the CSS, for the National Air & Space Intelligence Center, Wright-Patterson AFB, Ohio. She managed a staff of four Personnel Technicians and one Knowledge Operations Manager. With her expertise and knowledge she prepared her team for the Air Force Surveillance Intelligence, Surveillance and Reconnaissance 2013 Compliance Inspection resulting in the first "Excellent" rating for the Center. She also supported two reorganizations by directing update of over 1500 records in the Military Personnel Data System during the largest organizational restructuring events in the history of the Center.