New Campus-Based Honors Program
The Honors Program at Embry-Riddle, Prescott offers students an enriched educational experience focused on leadership, research, and ethics, while also giving them opportunities to enhance campus and community life for others. Building on the strengths of our current Honors Program: Focus on leadership, research, and ethics; sense of community; and study abroad scholarships, the new campus-based Honors Program will expand on the number of opportunities offered to students. We are increasing the flexibility to better meet the individual needs of students, drawing on programs already in existence on campus. Students would be able to design their Honors Experience based on their interest by selecting options from the pyramid below, note: the current blocks are suggestive of options and will be further developed. We will begin the application process for the program mid-term in the fall of 2018.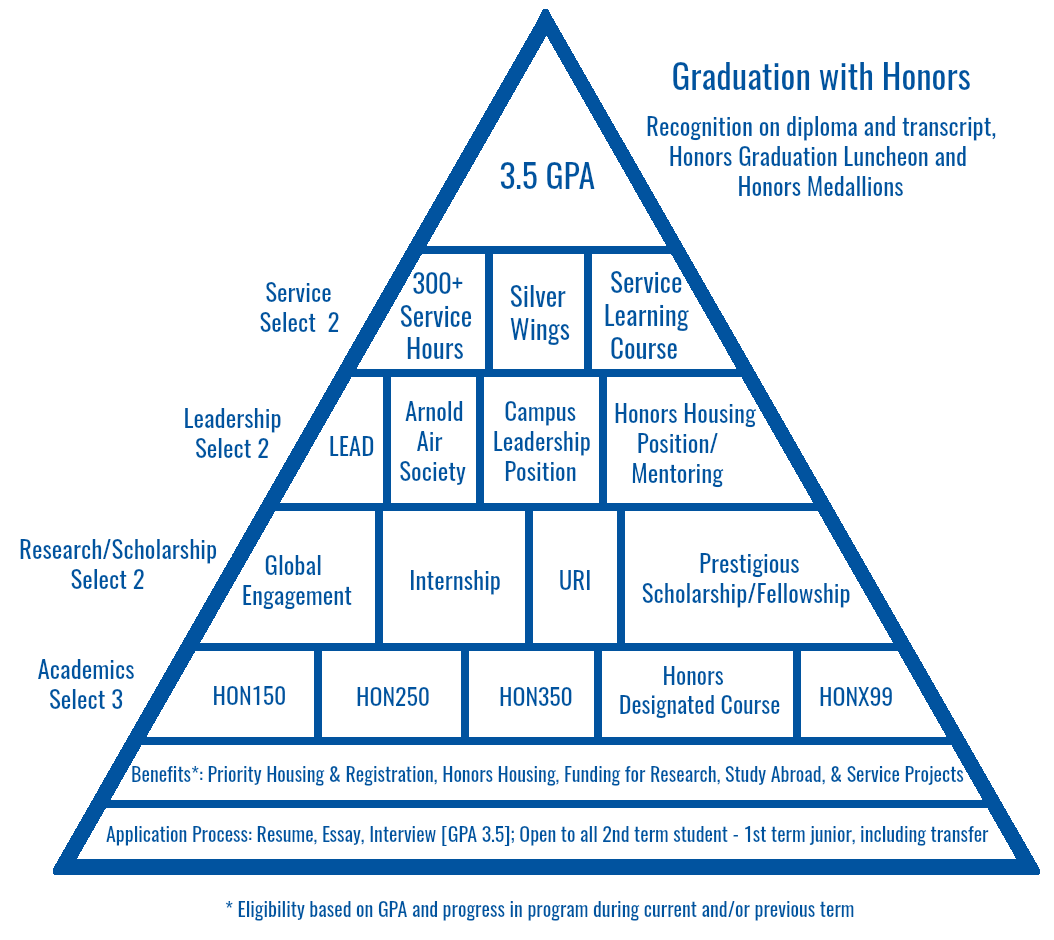 Embry-Riddle Aeronautical University Honors Campus Handout
Mission
The Honors Program provides a student-centered learning environment that challenges and inspires students through curricular and co-curricular activities. Students are encouraged to be active and engaged leaders in the university, Prescott, and global community. The program offers individualized academic advising and small classes dedicated to Honors Students. The program also provides study abroad scholarships and funding for research, scholarship, and service.
Vision
The Honors Program will create a community of scholars who are able to address problems and issues that others do not even see, engaging in and changing the world as thoughtful forward-thinking individuals.
Honors Program Admission
We will open the application process for the Campus-Based Honors Program in the Fall of 2018. We will be accepting applications from currently enrolled 1st-3rd year students as well as transfer students. The application process will include an essay, academic resume, letter of reference, and an interview.
Benefits
Some of the benefits and features of the Prescott Honors Program:
Priority registration beginning the 2nd semester
Living and learning with your Honors peers in a close-knit community
Scholarship opportunities for study abroad, research, and travel
Honors recognition on permanent transcript and at graduation ceremonies
Curriculum & Requirements
Academic requirements for Honors students are more rigorous than those of non-Honors students. Honors students have many unique opportunities to delve deeper into course content, explore areas beyond normal courses content, and develop high-level research and leadership skills. Honors students also contribute to their campus and community while maintaining exceptional academic standards.